Instruction of the Department(Japanese Language Department )
Features of the Department
Japanese Language Department
Daytime :150/2 Years Course,1.5 Years Course
Acquiring Japanese Language, aiming to go on to university and vocational school
| | |
| --- | --- |
| For | N5 on the JLPT / Living in overseas |
| Aim | "Achieving at least N3~N2 on the JLPT Score at least 200 on the EJU" |
Features of the Japanese Language Department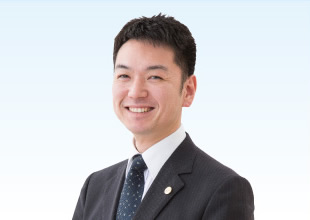 Competent Teachers and Curriculum
All teachers have passed Japanese Teaching Competency Test or have graduated from university majoring in Japanese language teaching.
Our department is certified as Specialized Course in Culture and Liberal Arts by MEXT.
Our operating structure and curriculum are certified by the government. Moreover, the school is a member of Association for the Promotion of Japanese Language Education, and the rate of issuing residence status are more over 95%.
Japanese Teaching Competency Test is one of the qualifications required by Association for the Promotion of Japanese Language Education.
---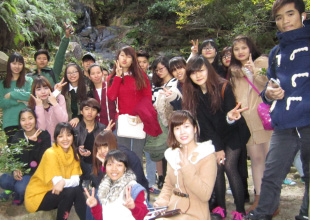 Abundant practical classes, off campus classes
We focus on practical activities using learnt grammar and vocabulary not just classroom lectures.
You can realize interests can- do Japanese language with making posters, giving presentations, having interviews with Japanese, questionnaire survey, planning throwing events. Besides, we have opportunities to have interaction off campus as visiting neighbor libraries, universities, sightseeing facilities to deepen understanding about Japan with surveying these facilities, the environment and real Japanese and Japanese culture.
---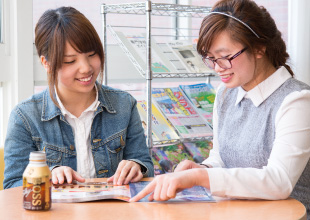 Interacting with Japanese Students in Other Departments
The school has 6 departments, including Japanese language dept., and has approximately 400 students. We regularly throw evens for exchanging students and touching real Japanese language.
---
Full-time Foreign Staff
After arriving Japan, full-time foreign staff support your school, life, part-time jobs, dormitory life and so on.
---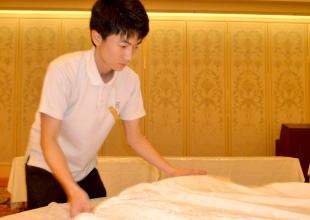 Fulfilled Life Support
Dormitories are fully furnished, supplied with electric appliances and the Internet.The female dormitories have full-time resident advisor. We can offer references for part-time jobs in which you can work for 28 hours a week during your first year of enrollment at IGL.
In addition, when you seek a more challenging environment, we will help you find a new job.
All students are required to purchase an medical insurance which pay all expenses you pay at hospital.
Curriculum
Aiming to acquire Japanese language skills through daily conversation practice to university exam preparation
A Scene Using Main Text 「Dekiru Nihongo」
1

Challenge

Considering what grammar is used in daily situation
2

Learning Grammars

Learning appropriate grammars in the situation
3

Let's say

Practicing grammars in conversations
4

Writing

Writing Essay about a theme
5

Preparation for Activity

Preparing for an activity
6

Can-Do

Giving Presentation of the activity as grand sum of the unit.
Time Table
Monday
Tuesday
Wednesday
Thursday
Friday

Class 1

9:20~10:05

Class 2

10:05~10:50

Class 3

11:00~11:45

Preparation for Exam

「Grammar」

Preparation for Exam
「Kanji,
Vocabulary」

Class 4

11:45~12:30

Preparation for Exam

「Listening」

Preparation for Exam

「Grammar」

Preparation for Exam
「Kanji,
Vocabulary」

Preparation for Exam

「Reading」

Class 5,6

13:20~14:50

Japan and the World
(Optional Class)
(If your screen is small to display, you can slide the table to see it)
Results of Exams
| | N1 | N2 | N3 |
| --- | --- | --- | --- |
| 2015 School Year | 0 | 8 | 7 |
| 2014 School Year | 4 | 12 | 6 |
| 2013 School Year | 0 | 8 | 11 |
Results On to Higher Education
Hiroshima City University,Hiroshima Shudo University,Hiroshima Bunka Gakuen University,Hiroshima University of Economics,Hiroshima Kokusai Gakuin University,Hiroshima Jogakuin University,Japan University of Economics,Osaka Sangyo University,Jobu University,Tokyo University of Social Welfare,IGL Medical and Welfare College,Koide College Fashion & Beauty,Ehle Institute,Chuo Computer & Communication College,Computer Kyoiku Gakuin
Instruction of the Department(Japanese Language Department )